JYJ3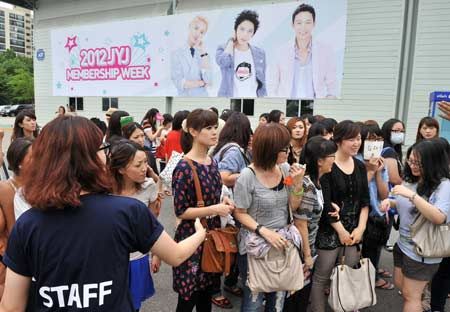 SEOUL — Thousands of Japanese fans flocked to South Korea Friday to see an exhibition dedicated to boy band JYJ and meet members of the K-pop group who have taken Asia by storm.
JYJ has invited 7,000 Japanese and 15,000 South Korean fans to an exhibition center in southern Seoul featuring performance costumes, trophies, film footage, pictures and favorite items of each member.
Holograms of the three band members were placed to guide fans and explain the show.
"This event was organized for the fans … I hope they create many good memories here with us," said member Hero Jae-joong at the show launch Thursday.
The group, which is also winning a fan base as far away as Latin America, will personally meet the Japanese fans on Saturday and South Korean fans Sunday.
According to the band's publicist, the Japanese fans paid an average 50,000 yen (US$630) for a three-day…
View original post 188 more words